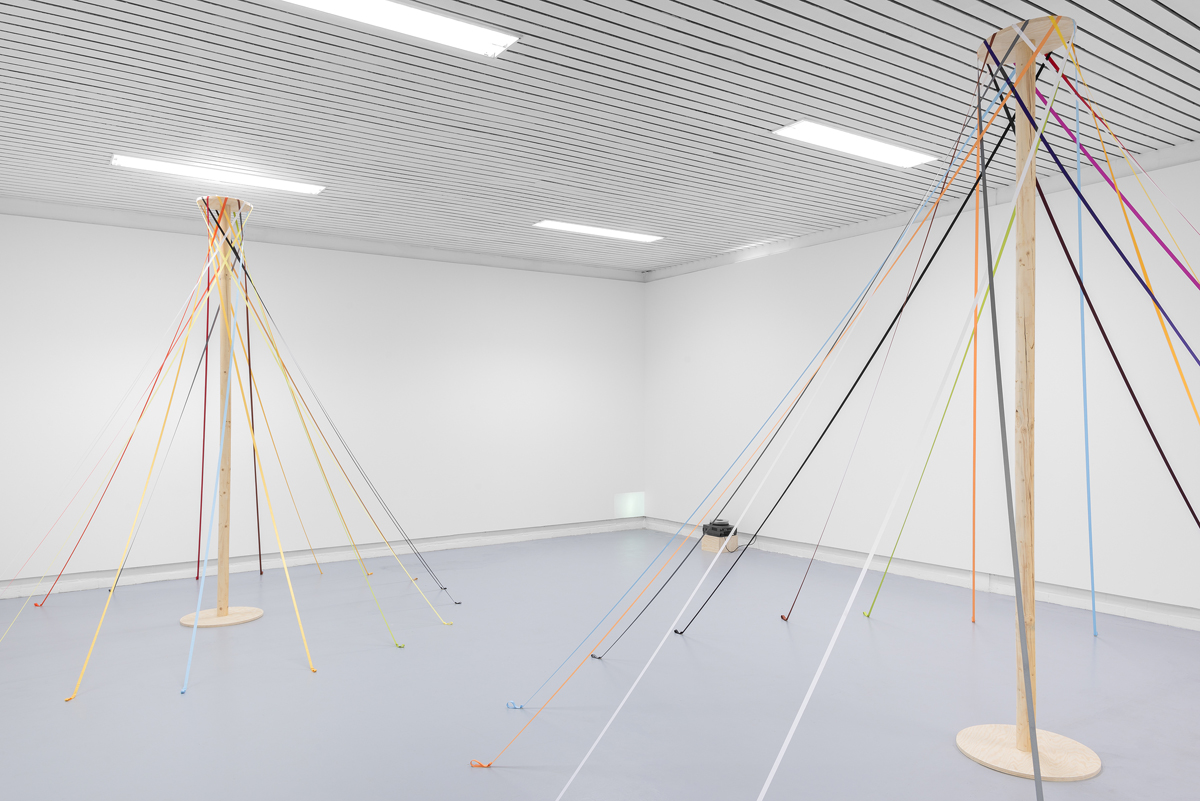 Otto Berchem (b. 1967 in Milford, CT, USA) lives and works in Bogota, Colombia. He studied art in New York and Edinburgh as well as at the Rijksakademie in Amsterdam. As an American artist who has lived abroad for most of his life (from New York, to Edinburgh, to Amsterdam, and finally to Bogota) it has been important for Berchem's practice to create relations between centers of power and what has been arbitrarily assumed as a periphery.
Based on his own experience of living in a country like Colombia, with its severe political and social contradictions, and submerged in a continent constantly shaken by international and local interests, his perception of conceptual thinking has been contaminated by an experimental and complex notion of Modernity.
The military dictatorships, totalitarian regimes and weak economies based on international standards, have all influenced Latin American art: provoking a multiplicity of styles, forms, means, and movements. For Berchem, whose practice is fed by the poetics of codified languages, this environment has been particularly inspiring.
Since relocating to Colombia, Berchem's work has been directed towards the exploration of different visual or symptomatic manifestations in the history of the 20th Century Latin American art. From this research, he has appropriated modern Latin American formal paradigms and stereotypes and include it in his work. For example, with the video Inverted Americas Berchem evokes Joaquín Torres Garcías' 1943 drawing América Invertida, depicting an upside South America. By channeling one of Torres Garcias' more renowned contributions to modern art history, Berchem questions the notion of identity and the clichés of nationality and territory.
One of the concerns among Latin American intellectuals of the latter half of the 20th century, was that much of Latin American conceptually based art was too focused on experience, sensation and formal or optical games, for example the Tropicália movement in Brazil, or the Kinetic art movement in Venezuela, instead of focusing or contributing more directly to expose the existing socio-political tensions. This gap between political and apolitical or sterile art, serves as an engine that Berchem puts into operation via his chromatic code, an alphabet of colors inspired by the writings of Uruguayan Jorge Adoum and Vladimir Nabokov, Peter Saville's designs for the first three New Order albums, and the condition of synaesthesia. With this chromatic alphabet, the artist sets out to provide a formally modern expression with political content and, at the same time, to empty revolutionary emblems that have symbolically represented the opposition to the official powers in the Americas, from the mid 20th century to the present.
With Maypole (We Are The Revolution) Berchem applies his chromatic alphabet, and juxtaposes the aesthetics of a traditional ritual with that of protest using an element of traditional May Day celebrations: a ribbon dance around a May Day pole. The piece sits between a painting and a sculpture, originally born from a performance and touches upon the idea of conflict and resolution. The 18 colored ribbons that the dancers held, spell the phrase 'We Are the Revolution'. The metaphoric relation between the tension of the ribbons, and the mixing of the different colors is key. Dancing around the pole, plaiting and intertwining the ribbons, the performers affirm the statement. When they retrace their steps, and unravel the ribbons, they evoke the failure of revolutions (and soviets) past.
Berchem's alphabet is also employed in the slide piece has created for this exhibition. The work, entitled Whisper, consists of 76 slides and paraphrases the song "Talking 'bout a Revolution" by Tracy Chapman. Once the colors are decoded, the text reads '"Talking About Revolution Sounds Like A Whisper, A Revolution Sounds Like A Whisper'.
'All revolutions go down in history, yet history does not fill up; the rivers of revolution return from whence they came, only to flow again.' (Guy Debord)
Otto Berchem has done obsessive studies of codes, and ways of classification. Being a foreigner in Colombia he decided to put together two of his principal interests, the tradition of conceptual painting, and the botanical expedition done in Colombia by priest and scientist José Celestino Mutis (1732-1808) in the 18th and 19th century as a way to generate an inventory of the exotica discoveries in the tropical flora of the country. Berchem created a new inventory of plants, painting their silhouettes and intervening them with appropriations of one of the most important conceptual painters of all times, Daniel Buren, whose signature stripes have given a new perspective to painting as they go beyond painting itself to be appreciated as space itself. When he used to put the posters all over metro stations, he called them affichages sauvages, (wild posters). Berchem mixes this idea of intervening in a space and brings together homage to conceptualism, revisiting views of the wild tropics. The rationality of the stripe contrasts with the exotic and random shapes of nature in this intent to do a new classification through the contemporary foreigners point of view.
Otto Berchem (Born 1967 in Milford, Connecticut) lives and works in Bogota. His exhibitions include: Carousel, The White House Project Room, 2018 (solo), Dive For Dreams, Ellen de Bruijne Projects (solo), Amsterdam (2017), Mobilize, with Amalia Pica, Instituto de Visiòn, Bogota (solo), Tropical Buren, Steve Turner Contemporary, Los Angeles (solo) 2016; Impenetrable, Galeria Pilar, Sao Paulo 2015 (solo); Clip-Clapper, Bis – oficina de proyectos, Cali 2015 (solo); Beyond Borders, 5th Beaufort Triennial, Belgium 2015; Theorem, Mana Contemporary, 2015; Secursal 32 - MALBA, Buenos Aires; Le future commence ici, Frac Nord-Pas de Calais 2013; Revolver, Ellen de Bruijne Projects, Amsterdam (solo); Stem Terug, De Apple, Amsterdam 2012; Blue Monday, La Central, Bogota 2011 (solo); You Are Not Alone, Fundacio Miro, Barcelona, 2011; 4th Triennale of Contemporary Art, Friedrichshafen; 2006 Give(a)way, EVA International, Limerick; 2005 9th Istanbul Biennale, Istanbul, Turkey; 2002 4th Gwangju Biennale, Gwangju, South Korea.
(1) Guy Debord, Panegyric, quoted in Greil Marcus, The Dustbin of History (Cambridge: Harvard University Press, 1995), 78