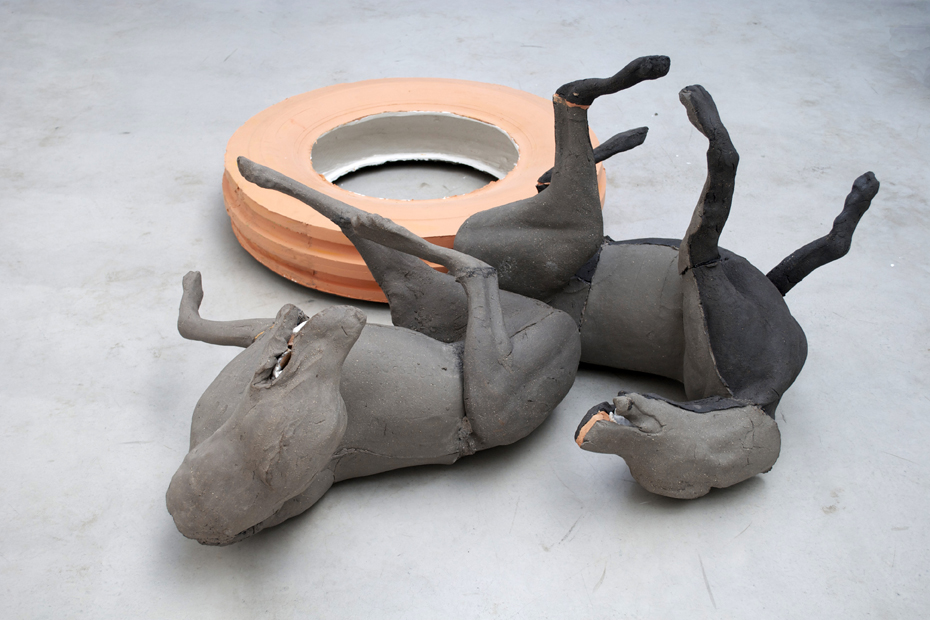 Sehsucht
It can be a stray dog, a flag or a human figure that defies the elements. It can be polyester or bronze or drawing paper or aluminium. Or the trunk of a birch – pioneer vegetation therefore, like a tree that proliferates on fallow land. No, it is never "or". In the work of Caroline Coolen (b. 1975), it is always "and". Her art – sculptures, installations, drawings – is the result of a reflection upon time and space, with strong autobiographical roots. In many key works, figures seem to gaze at the horizon; they always adopt the attitude of looking. The artist observes just as keenly, before interpreting the concentrated figures, dogs and landscapes. After training in sculpture, she spent a year studying experimental film – which says a lot about an artist. In an interview about her expedition to the Arctic in 2007, she mentions the word Sehsucht: '... what interested me was the desire to gaze far into the distance, and to try and capture that desire in a work. In that respect, Spitsbergen was complete visual euphoria.' Coolen, together with several fellow artists and scientists, trekked through the desolate, fragile region around the North Pole. The notes and impressions from that trip remain an occasional source of inspiration. Patterns emerge – in clay, rubber, ceramics, porcelain, foam, bronze, polyester, textiles and paint – which are passed from one sculpture to another and refined, in a suite of variations on a theme. In the reservoir of history, Coolen fishes for carbonised dogs – think of Pompeii – as well as medieval gargoyles, heraldic elements and emblems that resemble religious iconography. Layer by layer, she assembles fragments of reality in order to create new ensembles. This is how a singular oeuvre is established, slowly and steadily, along with the time that the artist needs to let it penetrate. Through her associative way of thinking and feeling, a kind of continuity is restored. And nothing is a lie, because everything is true.
There is time
The work of Liesbeth Marit (b. 1979) develops out of the tension between stillness and movement. This is not only true of the photographs that she mounts on small light boxes – they are screens, suggesting movement, where only 'stasis' reigns. We can see interiors, rooms and other strange spaces that could just as easily be film sets or maquettes. Do these places actually exist, or are they Marit's own carefully lit constructions? With such a hypothesis, one is closer to the truth. The woman behind the camera studied painting, but is today working with video and film. No doubt she looks at her surroundings in relation to the scenarios that she wishes to film, searching for locations – landscapes and interiors – that can play a role in a story. The photographs on the light boxes are thus 'stills', in every sense of the word.
In the two short film clips presented in the gallery, it appears as though very little, or almost nothing, happens. This initial impression would not, however, be correct, since there is a lot to see in these 'motionless images'. Things change almost imperceptibly, or something occurs at the very edge of the frame, like a phase shift in minimal music. As autonomous images, they are extraordinarily powerful, and their introspective, even meditative silence and stillness offers up a number of unexpected details: the subtle play of light, or a running dog. The image in which the latter appears is a scene from Marit's narrative short film "YURI and the frustration of our ponies" (2012). The light slowly follows its path, but the soundtrack is also deeply penetrative. Thus 'attention' becomes 'illusion' and, at the same time, concentration. Marit thus reveals the flow of time, but also how it condenses and solidifies. Until it appears to stand still.
Eric Min, August 2015