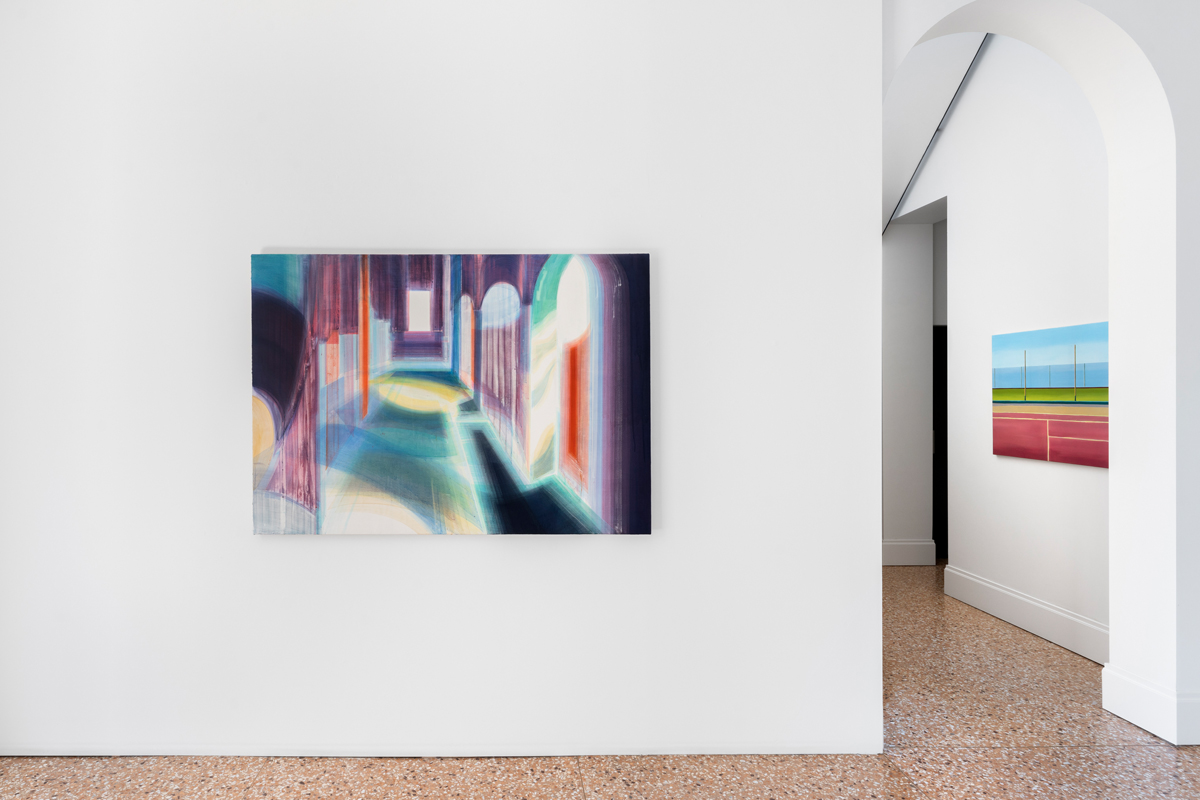 Stefan Serneels & Ara Méndez Murillo
A light's narrative
The Whitehouse Gallery opens the new season with a joint exhibition by Stefan Serneels (b. 1968, Antwerp, BE) and Ara Méndez Murillo (b. 1997, Córdoba, ES). For Serneels, A light's narrative is the result of many years of faithful collaboration. This time, he surprises us with a new series of paintings in colour. Captivated by the transparent and fluid nature of ink, he sets to work with liquid acrylic paint to infuse light into his images in the same intuitive and dynamic way. In stark contrast to Serneels, Ara Méndez Murillo starts from the rich materiality of oil paint in order to recreate the light. This is Murillo's very first gallery exhibition, and she presents an overview of the works created during her studies at La Cambre (ENSAV) in Brussels, from which she graduated at the end of June this year.
Stefan Serneels seduces the viewer in a poetic and melancholy manner with what appears to be an intangible reality. Layer upon layer, he constructs an image like a blurry illusion in which he constantly shifts the boundaries of the painted surface. He remains committed to source material such as photos, film stills and media images, although these merely function as guides. The resulting paintings are spatial perspectives in dynamic compositions that evoke both tranquillity and tension. Interiors, objects and people's shadows attest to his preference for the figurative graphical métier in which he is uniquely skilled. New to the series on display is the use of liquid acrylic. He uses this medium to soften his often-compelling representations or enliven them with surreal hues. The use of colour is exceptional for Serneels and serves as a surprising contrast to the broad spectrum of grey tones that is characteristic of his work. During the preparations for this exhibition, hanging high up on a wall in his studio like a guardian angel was the painting De Kamer. This is the only work in the exhibition that dates from 2011, the year in which he first utilised colour and which was followed by a colourless period that lasted more than ten years.
Painting with a liquid medium allows him to distort his subjects into illusory images that recall digital simulations, infrared images or X-ray photos, thanks to their unusual colour palette and a light sensitivity reminiscent of a negative. Light is also a dominant element in Serneels' work but he does not create it by applying or adding white pigment. Instead, he leaves the canvas exposed, thereby allowing the luminosity to shine through from the background. Without symbolic or religious overtones, he integrates light as the most important visual element to support a narrative. Yet viewers are not permitted to interact with the principal character's emotions, they can only observe them. The artist enhances this strikingly emotional detachment by means of a reverse vignette effect – the corners of the painting are more illuminated than the centre – through which he focuses the viewer's attention directly on the light-transmitting subject, for example in Painkiller and Light's Narrative III.
Also included in this exhibition is a new animated film by Serneels in collaboration with Jan Weynants. This is not his first foray into the medium. His debut short film 'Hikikomori Style' dates from 2007 and will be screened in early October at the BREEDBEELD short film festival in Antwerp.
--------
Ara Méndez Murillo almost exclusively draws her inspiration from daylight. She grew up under the Spanish sun, where she is currently participating in a residence in Bilbao. Murillo's paintings are bathed in light, with familiar objects appearing to enter into a dialogue with the luminosity. Fascinated by the unusual arrangement of certain elements in the space, she shifts the focus to the appearance of a place or scene, which she will typically photograph. In a decor that is overwhelmingly governed by geometry, the strangeness of the observation is accentuated, which enhances the sensory effect. The light that Murillo captures is thus imbued with an emotional meaning because it often evokes a memory, a certain atmosphere or specific moment, as in the paintings Calm in August I and Calm in August II, two works that arose from a series of gouaches created during the summer of 2020. She paints the light as a lonely witness to a moment or a longing. Abandoned playgrounds and sports fields appear in the foreground of completely static worlds. Like many other foreign students, she returned home for a rudderless summer that, in retrospect, was replicated all over Europe: an apparently peaceful world reveals itself to be a huge still life. It is a unique tableau for the artist who departs from observation. Nature morte, and yet not entirely. Because however little remains of human activity and day-to-day affairs, nature never stands still. After spring comes summer, and autumn inevitably follow summer, certainly nowadays as drought causes leaves to fall prematurely. As an inexhaustible source of light and warmth, the sun shines down from every sky that is called to life by her brush.
Murillo uses painting as a way of transforming images into flat landscapes with saturated colours, a pictorial approach reminiscent of the bright canvases of Alex Katz, deepened by the vibrant shadows of Wayne Thiebaud. The painting becomes a challenge in which every colour, with its own weight, texture and arrangement, seeks out a mutual relationship. Murillo unites elements in a familiar yet surreal tableau, thus shaping and directing a painted piece of theatre. Just like the changing of the guard depicted in Marelle Grecque and Marelle Russe: an absurd spectacle in which professionally-trained soldiers play hopscotch in costumes, looking for all the world like innocent toys.
Murillo enchantingly depicts the anecdotal or its absence. Her work is saturated with softness because the viewer is immersed in a carefully staged reality that yields sun-drenched visual excerpts from the eternal film of life in which light is the protagonist.
Louise Goegebeur