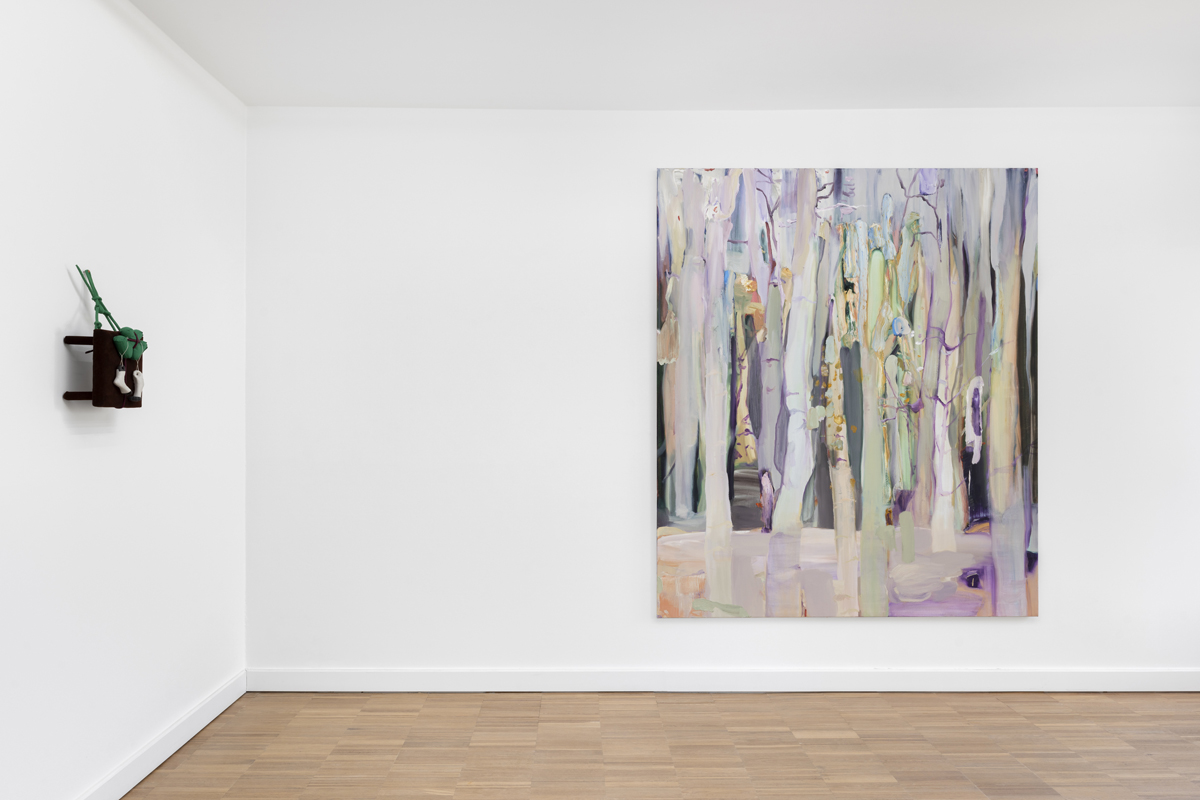 "And hark! how blithe the throstle sings!
He, too, is no mean preacher:
Come forth into the light of things,
Let Nature be your teacher.
She has a world of ready wealth,
Our minds and hearts to bless—
Spontaneous wisdom breathed by health,
Truth breathed by cheerfulness."
William Wordsworth, extract from The Tables Turned -
The Tables Turned, the new duo exhibition at Whitehouse Gallery, reflects on the idea of continuous metamorphosis in the state of things. The title refers to William Wordsworth's poem of the same name, in which the poet glorifies nature as its only teacher. The exhibition shows recent work by Simona Mihaela Stoia and Jot Fau. It testifies how both artists incorporate the idea of constant transformation into their work but also take inspiration from nature.
Simona Mihaela Stoia (b. 1982) draws inspiration from all sorts of things. An emotion, a colour, a shape or a walk in the woods stimulate the emergence of an idea in her head. To nourish, preserve and shape this idea, Stoia diligently searches for images and figures that correspond to it. She freely translates this into her paintings, of which Stoia shows a selection at Whitehouse Gallery. Her canvases are characterised by an almost sculptural texture. Stoia achieves this in various ways. She deliberately manipulates her oil paint by leaving tubes open, allowing them to dry out. This manipulation gives the paint a thicker structure and texture. Layer by layer Stoia builds up her canvases. Thin, almost transparent layers alternate with thick, thoughtful or spontaneous brushstrokes. The viewer encounters the same variety in Stoia's use of colour. Although her paintings are bathed in one dominant colour sphere, at a glance they disintegrate into harmonious colour shades. The result is complex paintings whose surfaces seem to be in constant motion: a new brushstroke suddenly appears, another shade of colour reveals itself, and an unknown form emerges. Every time the visitor's eyes shift, new details seem to recreate the canvas. In this way, Stoia's pictorial space always seems to seek the balance between finished and unfinished.
The artworks that Jot Fau (b. 1987) presents at Whitehouse Gallery consist of various objects, each carrying a personal or collective story. Fau, for example, incorporates erotic photos of girlfriends or the legs of an old doll. Like Simona Mihaela Stoia, Fau gets inspired by nature and the relationship between man and nature. Fau even goes a step further and brings nature into her practice by, for example, covering a found branch with leather or velvet. The choice of objects is well thought-out and has a purpose. Each object selected is re-created by Fau. She gives it a second, new meaning, without letting its old history and emotions fade away. As such, Fau shows how everyday things transform, how they undergo a metamorphosis that takes them out of their previous context and makes them part of a new story. She knots, sews, and embroiders the objects into a new whole, a work of art. Fau deliberately opts here not to hide the process of creation. The thick seams and hems function as silent witnesses. This makes her sculptures look vulnerable and rough, and it seems as if one catches them during their process in progress. Her sculptures seem to be in full motion, with the viewer witnessing the artworks' continuous transformation.
Astrid Goubert, April 2022